Hi all.
Been using the CS6MX for about 6 months or so now. I don't get to go out very often (about once or twice a month).
I'm concerned about an issue that is happening on an alarmingly frequent basis and I was wondering if my machine has an issue.
I though it was due to different land but it has happened on 3 digs in a row now, each at a different site.
Whilst slowly walking along and swinging the coil, I would get a positive nice sharp dig tone. I stop (as you do) and rescan the area that gave the tone and the tone changes to iron grunt. On my last dig (a rally) this was happening so often (iron infested roman land) that it REALLY slowed me down. I asked a fellow club member who was also using a 6MX if they were experiencing the same and they said they weren't.
I was using Sens 10, discrim 3, iron volume 3, Discrim vol 3 and ground balance auto. I tried reducing sensitivity but it made no difference. I also tried iron and discrim volume on 0 but then the high tone still sounded but instead of signal turning to iron grunt, it just disappeared (iron vol was 0 after all).
I never had this issue untill a couple of months ago.
Another issue which I frequently have is the detector being extremely chattery. Unless I turn the sensitivity down to about 4 it is rarely quiet with loads of little high tone chirps.
Anyone else recognize this?
I'll be gutted to have to send it off to C-Scope as I had to do that with my CS3MX too as that developed a falsing issue too

One more thing, on the C-Scope website they show this upgrade: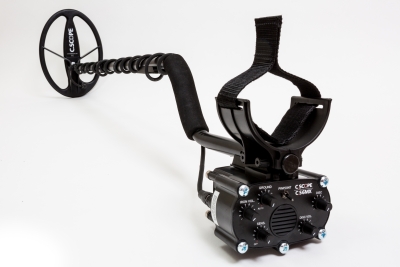 and it says this: 'Detectors manufactured from November 2013 already have this upgraded upper stem fitted'.
I bought mine 6 months ago and I don't have that kit? I have the normal arm cup without the strap and presumably cannot mount the control box there. I really struggle with arm fatigue with the way mine is.
Could this mean that mine is the old stock with the known chatter issue? I'd be surprised as I bought it from Regton.