Hi all.
Went to a Rally on the weekend which was my first time using my new CS6MX.
Here's how it went:
The land was a freshly ploughed field of 80 acres.
Unfortunately, half of it was had a kind of green waste on it - not as bad as the usual stuff but a lot of bits of foil and little scrap metal bits and plastic.
However that didn't stop plenty of amazing finds coming up

bronze and silver staters, an Iron age brooch, 5 fibula, silver roman coins, about 60 bronze Roman coins, hammereds and more.
Anyway, this was my very first outing with my new CS6MX.
Things didn't start well at all. After just a minute of so, my machine went absolutely crazy. Beeping at the rate of machine gun fire. I reduced the sensitivity but it carried on. Switched it off and then on again. The same. Then it stopped and I thought it was maybe the 60 or so other detectors still in close vicinity. But it soon started again and kept up for 5 minutes and I then decided to give up as my detector was obviously faulty


Then I had a thought. Took my phone out of pocket and turned it off. BAM! Stable detector!
Switched phone back on and.........BAM! Detector going crazy again.
So, my detector hates my HTC One M8 then

Still, at least it gives me a great excuse not to be disturbed by the wife while detecting in future!

Spent a tiring whole day detecting and finding nothing of note except 15 buttons, a small buckle, the upper armless torso of a lead red indian, a few very corroded modern coins and the more than usual scrap. At about 4.30pm I was exhausted and really quite disheartened that although most had at least a Roman coin or two - I had nothing like it.
Then...............Beep!
Dug down and out popped this little beauty: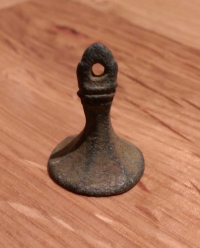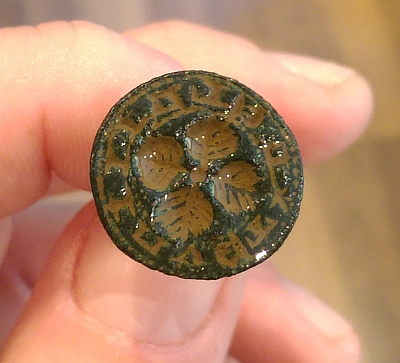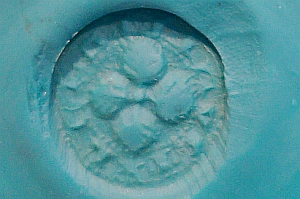 I've found the same four leaf clover design on few Seal Matrix on the web eg. here:
http://www.ukdfd.co.uk/ukdfddata_old/sh ... 47&cat=all
They seem to all bear the same legend. So I expect mine also reads: "you have a loyal friend".
This is my second seal Matrix - well chuffed.
My CS6MX was excellent and I soon learned what it was telling me. I only dug 1 piece of iron all day (except for a couple of large plough parts as expected). With my CS3MX, I would have dug a LOT more rusty iron. Very happy

The CS6MX was finding stuff no problem so that's great. However, the phone interference concerns me. I like to have my phone with me on digs. Has anyone else experienced this? Could it just be the HTC M8?