This is my first identifiable find that I have discovered using my Bounty Hunter Tracker IV on my stubble field, so I am pretty pleased.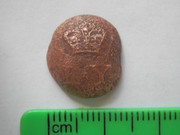 There is a crown at the top and the letters L.Y underneath and I have identified this as most likely a Georgian Leicester Yeomanry button. It weighs 0.9g.
It fits as the location of the find is in Leicestershire.
I am wondering why this object would be found in a field - maybe it was used as a camp, a training ground or maybe a general passage through to somewhere on horseback?
This is what it looked like when I found it by the way, taken under my 300x microscope: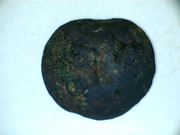 Not having any idea of any legible markings when I captured the image, I now see that the crown is at the nine o'clock position in this photo.
A bit of a bathe in my home made electrolysis tub and a bit of tooth paste brought out the detail.
I have another button that I found about ten feet away and this has the very same style of the crown, although I am struggling to identify any other markings on it at the moment.
Found with my bounty Hunter Tracker IV, discrimination at 12 o'clock in Tone mode, sensitivity at five o'clock and at a depth of 4" in damp clay soil. It still gave a really good signal with the discrimination at maximum.